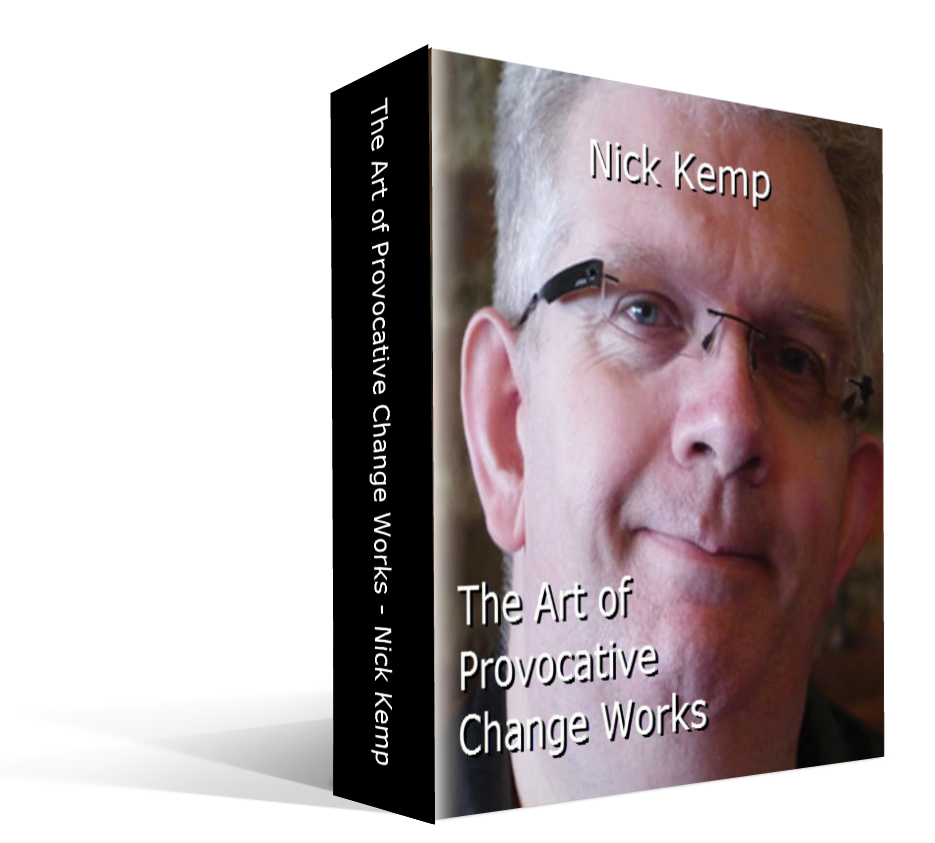 Provocativechange
The Art of Provocative Change Works By Nick Kemp mp3 downloads
Introduction
For Personal Development, Business, Coaching and Therapeutic Success.
This nine high quality audio set is a complete 3 day Level 1 Provocative Change Works training held in Austin March 2013. This audio product explains the PCW process and contains client sessions on motivation, weight loss, confidence, anxiety and other issues.
What This Gives You
An ideal and in-depth examination of Provocative Therapy processes and their application to real life situations.
CONTENTS
Introduction by Katie Raver & overview of PCW by Nick Kemp.
First session with Jamie on procrastination & discussion with group on the session.
Provocative Change Works around the world.
Questions from the audience about private clients.
Common misconceptions about provocative style sessions.
First session with Alec about losing weight.
 Talking about Frank Farrelly's work and creation of PCW icon stances.
Explanation about using provocation to change client beliefs.
Discussion of how to use provocative stances and working in the here and now.
Session with William on work burn out & discussion with group.
Talking about the difference with the PCW way of working with clients.
Session 1 with Wayne on problems with writing a book & discussion with group.
The importance of practice and application.
Client cases stranger than fiction.
Compulsive liars and the importance of client expectations.
Sales staff who don't pay attention.
Challenging and changing generalised beliefs.
Why you need more than techniques in client work.
Follow up session with Wayne.
Follow up session with Jamie.
Discussion about how PCW is conversational.
Explanation of "It's not your fault" stance.
Working with Alec and William simultaneously.
Feedback from session.
Session with Kathi on creativity using metaphorical approach from PCW toolkit.
The importance of critical thinking in client work.
Nick's list of complaints about the world and what to do (set up for blame stance).
Explanation of working with clients and setting client tasks.
Working with Pete with channel swimmer.
Final session with Jamie adopting the blame stance.
PLEASE NOTE THESE ARE MP3 downloads from the original CD set
---
More Inspirational Collection from Proactivechange team